Physics Lab
The subject of Physics derives strength from its strong experimental base. The objectives of inculcating scientific aptitude in the young minds through the experiments done by them in the school Laboratory. As per CBSE guidelines our school laboratory provides an opportunity for the students to understand the basic concepts of the subject in an easy and subtle manner.
The students have an insight into the world of science, on their own under the able guidance of the faculty members.
The students follow the step by step procedures and rationally get to understand the concepts of science.
Utmost care is given to students who are performing the experiments and guidance is given only if the need arises.
Posters and charts help the students to perform the experiments in a scientific way.
Students feel happy after verifying the results.
The school has a vast Physics Laboratory which is divided into two labs, one for Senior Secondary students and the other for middle section students.
In the Senior Laboratory, the experiments which need electrical constructions are arranged together with the facilities to do the            optical experiments.
Chemistry Lab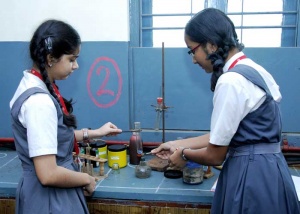 Chemistry occupies a control position in the study of modern science. The work being of man and society are intimately linked to and dependent on chemistry in one way or the other.
A large body of chemical information is based on the result obtained from painstaking experiments.
Every seat is provided by individual gas and water connection.
Students handle a sophisticated digital analytical balance for weighing purpose.
They are provided with every apparatus as per requirement and also to carry out their projects.
Bio-Lab
Based on the CBSE norms our school has a well-equipped Biology Laboratory. The salient features of the Laboratory are:-
[checklist]
Lab is well ventilated, illuminated and has a new tiling.
For Microscopic studies – Compound, dissecting and Projection Microscopes are there.
Chemical Racks have all required chemicals & test materials.
For Physiological and behavioral study different We have a qualified staff which evoke analytical thinking, practical skill by illustrating the activities in enjoyable manner.
 Time & time various activities are organized to evoke interest in subject like – poster making, model competitions, quiz competition. symposiums.
To create environmental awareness we organize tree plantation and Van Mohatsav, children on this day make innovative models to depict environment and its features.